PUAHANUI BUSH RESTORATION

Thanks to the
Biodiversity Condition and Advice Funds
Fantastic and supportive landowners
volunteers who have helped out
DoC and
Hawkes Bay Regional Council
who are all supporting this restoration effort.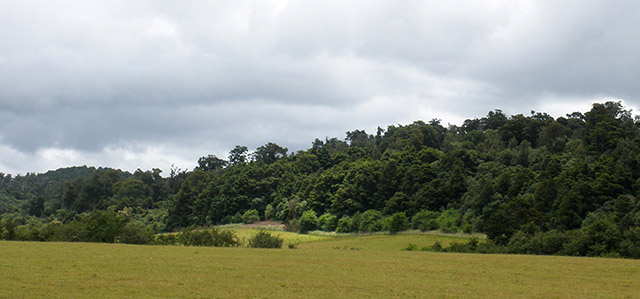 Puahanui Bush is a 130ha conservation covenant in Tikokino, Central Hawke's Bay, next door to Gwavas Garden.  The lowland podocarp forest is the largest remnant of its kind within three surrounding ecological districts, and supports regionally rare long-tailed bats, bush falcon, large numbers of tui and kereru, forest gecko, and a range of unusual invertebrates.
Garden escapees have become established in and around Puahanui Bush over the last century.  While hawthorn (Crataegus monogyna) and Japanese honeysuckle (Lonicera japonica) are also well established, English ivy (Hedera helix) has had the most noticeable impact, had become the most widespread (50% of total area), and has the potential to continue degradation of the forest ecosystem. 
The Ivy Removal Project began in 1999 with cutting of adult vines and herbicide application.  Progress was slow and results inconsistent.  Grazing by sheep and subsequent herbicide applications were successfully trialled to emulate mechanical weed-eating which had been a successful pre-cursor to herbicide application in the nearby homestead garden.  Over 10 years later initial control is complete.   Grazing by sheep has played a vital role in achieving over 90% kills with only one herbicide application. 
In 2011, further funding has been received to continue weed control within the bush and also to control predators and rats in this precious remnant.

NO IVY LEAGUE NZ –
Volunteers can help by hand-pulling  small bits of ivy left throughout the bush after the initial control . 
The next volunteer days are scheduled for the 11th of September 2011 and the 25th of September 2011 . 
Please contact Kay if you would like to help.
Impacts of English ivy on forest ecology (552kb pdf)
Control methods for English ivy (737kb pdf)
Further information on English ivy click on the links below
Okerman (578kb pdf)
Metcalfe (645kb pdf)